Proxologist is the fourth episode of the third season of StarCrafts. It is the fifty-fourth episode overall.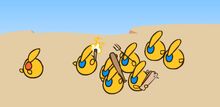 The episode begins with some blue probes mining. One offers a mineral to another one, flattering it. Suddenly, a red probe warps in an assimilator over their vespene vent. It then tries to warp one in over the other one like dunking a basketball, but a probe jumps in front of it, blocking the warp. Two probes are seen trying to destroy the warp rift, while a third tries to chase the red probe away. The red probe attacks the blue probe. In an exaggeratedly intense battle scene, we see the two probes using their particle beams on each other.
Suddenly, another blue probe alerts the fighting probe of a red gateway (with a pylon) warped in near their base. Five probes are seen hitting the gateway in an attempt to destroy it. A group of blue probes chases out the red probe with typical "angry mob" weapons such as a pitchfork, a torch, a baseball bat and a nailed plank. Unfortunately, the gateway is nearly done warping in a zealot. One probe attempts to block the warp progress bar with his "hands", but to no avail. The red zealot warps in. Unfortunately for him, the gateway was warped in right next to a cliff, trapping him against the cliff. The probes ignore him and go back to mining. A flying bird then poops onto his head.
Characters
Edit
This is the second time angry mob is used since its previous episode.
Proxy Zealot does not escape from his gateway prison until the season finale.
In later episodes, red protoss units haven't warped in at the red pylon or from the gateway. It may be possible that the pylon has been destroyed to deactivate the gateway.
This is the first episode to feature protoss race only.
In-game Refrences
Edit
Proxy Zealot trapped by gateway by the cliff is a reference to common mistake in constructing production structures near the cliff to trap deployed units.
Cultural Reference
Edit
Title of this episode is a pun on protoss proxy strategy when warping in structures on enemy base.
The intense battle between two "powerful" particle beams is a reference to battles in DragonBall Z. Also, its popular sound effect is used.